Long Island COD is proud to offer these quality products and services: 


Bioheat® fuel

Long Island COD deeply cares about protecting the environment for future generations - and that is why we are extremely pleased to introduce clean and green Bioheat® fuel to all our customers. There are so many benefits to using this eco-friendly fuel:
Bioheat® fuel is domestically produced using biodiesel made from American grown resources like soybeans - which helps support our nation's farmers and reduces our dependence on foreign energy sources.
Bioheat® fuel has the highest BTU content of any alternative fuel, for more efficient burning and satisfying warmth.
Biodegradable, renewable and non-toxic, Bioheat® fuel burns cleaner than "regular" Oilheat (which is already amazingly clean!). It contains almost no sulfur, and significantly reduces particulates and greenhouse gases that lead to global warming.
Bioheat® fuel lubricates heating system parts more thoroughly and efficiently, helping to reduce the number of service calls needed annually.
Bioheat® fuel costs about the same as "regular" Oilheat - and you get a tax credit (see below).
Bioheat® fuel requires no burner, boiler/furnace or tank modification.
Bioheat® fuel is delivered to you in the same manner as "regular" Oilheat.
To order Bioheat® fuel from Long Island COD, click here. 


When You Use Bioheat® fuel, You Get a Tax Break!
New York State offers a tax credit for customers who use biofuels - one cent per percentage of biofuel blended with heating oil, up to 20 cents. Since Long Island COD's Bioheat® fuel contains 20% biofuel and 80% heating oil (known as a B20 blend), our customers receive a 20-cent-per-gallon tax credit. That means you can save $200 for every 1,000 gallons of Bioheat® fuel you consume! 

The new tax credit, originally slated to expire at the end of 2011, remains in effect through 2020. 

To properly compute the amount of credit allowed, you should have an invoice or bill that includes the following information: date of purchase, number of gallons of Bioheat® fuel purchased and the percentage of biodiesel included (in our case, 20%). Long Island COD will be happy to provide you with a statement of your usage for the year. Simply complete our contact form and we will email this information to you. To receive a tax credit, you should file a Claim for Clean Heating Fuel Credit along with your tax return. Please consult with your tax professional for the proper forms. 


With HEATDOC™, Your Heating System Has a Worry-Free Healthcare Plan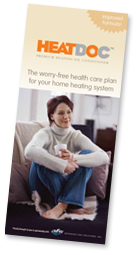 At LongIslandCOD.com, we deliver peace of mind, because we think of everything for your home comfort. LongIslandCOD.com customers enjoy trouble-free heating because we treat your fuel with HEATDOC™, a premium heating oil conditioner. 

HEATDOC™ improves your fuel in four important ways:
Sediment Reduction: Untreated fuel produces unwanted sediment that, when stirred during refill, can enter into system components. HEATDOC™ reduces sediment into microparticles that flow completely through your heating system to a complete burn while improving efficiency.
Clean Filters: Sediment build-up in the tank filter can stop the flow of fuel completely or allow sediment particles further into the system. As HEATDOC™ reduces particle size and stabilizes the fuel, it eliminates clogging and ensures no inconvenient clogs at the oil filter.
Clean Fuel Lines: Untreated fuel can also react with metal parts causing corrosion and oxidation, which can stop fuel flow or reduce efficiency. HEATDOC™ stops the reaction and eliminates the corrosion of metal parts.
Clean Nozzle: Sediment can eventually reach the burner nozzle, reducing burn efficiency or shutting off the heat completely. HEATDOC™ eliminates nozzle plugging, maintaining maximum burn rate and improved equipment efficiency.
The LongIslandCOD.com team is constantly on the lookout for products that will improve our customers' comfort, and we have found a good one with HEATDOC™. It increases fuel efficiency, reduces the chance of a heat outage and extends the lifespan of your equipment life – all of which helps you save money!

For more information, view the HEATDOC™ brochure 


Heating and Cooling Services
At Long Island COD, we don't just deliver your oil - we provide these value-added services:
Year-round heating oil deliveries
24-hour emergency service
Complete home heating system maintenance, repair and installations
Oilheat products and services
Diesel fuel
Full central air conditioning capabilities
Air purification
Pool heaters
Radiant floor heating
... and much more

For more information on our products and services, please contact us.